Industry experts in fire and thermal insulation within the built environment
Since its formation in 1980, Cryotherm has been one of the leading specialists in passive fire protection. We design, fabricate and install systems to protect buildings from the effects of fire. The technology at our disposal means that we can also provide thermal and acoustic insulation, as and when required, within a single solution.
Fire regulations require varying levels of protection, depending on the nature and use of a building. Cryotherm specialises in this field and we are here to make all of this simple for you. Our expertise and experience mean that we can deliver an end-to-end, cost-effective service from survey and consultancy through to system delivery.
We pride ourselves in providing the highest quality workmanship, with fire protection that will meet the regulations for any building, with systems providing up to four hours' protection, all supported by the Building Research Establishment (BRE) testing and assessments. Every Cryotherm fire protection system is independently tested to ensure it meets project design standards.
Why contractors are choosing Cryotherm
Recognised as one of the UK's leading industry experts in passive fire protection
Cost-effective solutions, even up to highest fire-rated requirements
A turnkey solution from design to delivery
Systems providing up to four hours fire protection
Bespoke solutions that combine functionality with style
Energy-efficient solutions
Every system independently tested
Our technical team advises on all aspects of fire, thermal and acoustic requirements – including performance criteria and installation methods.
Spiralite, Rockliner and Stoplite are our most commonly used products:
When high fire ratings are required, I know I can rely on Cryotherm to provide a cost-effective, high-performance system. Their technical support and attention to detail ensures we always have the right answer.
Ivor Seabrook, Contracts Director, G&A Fire Protection & Interior Services.
Cryotherm Rockliner Fire Protection
Spiralite Structural Fire Protection
Spiralite
The Spiralite system is a superior, semi-rigid, rock wool board. Its primary use is in the protection of structural steel. The boards are easy to handle and are cut to size and shaped for cladding steel beams and columns. Boards are secured by spiral screws that ensure the integrity of the installed system.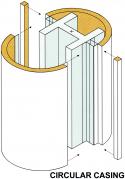 Rockliner
Cryotherm has installed Spiralite fire protection into many prestigious buildings throughout the UK and overseas.
Rockliner is a metal casing system for the protection of structural beams and columns. The casings are lined with cut Spiralite which provides the fire protection and the steel fascia of the casing gives:
Protection from accidental damage
A range of decorative finishes
Specialist finishes for applications such as in food safe processing
A variety of shapes to suit design and installation
Colour finish matching
Rockliner is also used extensively in the protection of mezzanine floors, Cryotherm also has extensive experience in this specialist field.
Stoplite
The Stoplite system is used to stop the spread of fire within a building. Typical applications are the trapezoidal voids within corrugated decking and roofs and the gaps between flooring slabs and curtain walls.
I do not use anyone else for my fire rated casings. Rockliner casings are the best around for quality of manufacture and the deliveries are 100%. You will not go wrong using them.
Stephen, Mezz9.com